Microfluidic Chip Assay Device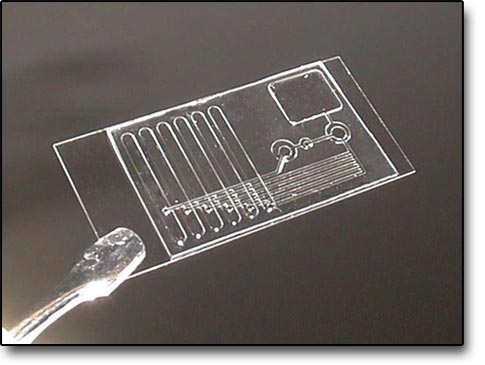 Micro assay device made at UCI from multiple layers of polymer materials. This device couples microfluidic, electronic, mechanical and photonic technologies to deliver a disposable chemical lab in a hand-held unit. The specific application is for food safety inspection using chemiluminescence tagging, but the technology is general purpose.
Equipment used:
Silicon wafer to create an SU-8 mold.
Laurell Spinner to spin SU-8 photoresist.
Hotplate to soft-bake SU-8 photoresist.
KS MA6 Mask Aligner to UV expose and pattern silicon wafer.
Hotplate to post anneal developed SU-8.
Hot embosser to transfer SU-8 mold pattern to polymer substrate.