Karl Suss MA6 Mask Aligner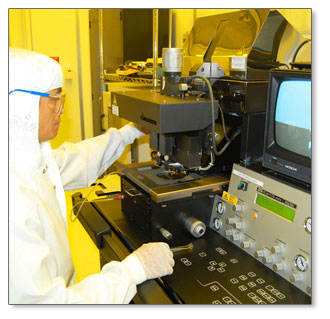 View Photo Gallery


View Video Tutorial


Download Standard Operating Procedures
Description
The Karl Suss Mask Aligner performs high resolution photolithography. It offers unsurpassed flexibility in the handling of irregularly shaped substrates of differing thickness, as well as standard size wafers up to 6'' in diameter. It uses 5" masks System and it can be operated manually. All contact exposure programs (vacuum, hard, soft contact and proximity) are provided to print structures far into the submicron region.

General Information and Usage
X- and Y- shift are below 0.1um and are not detectable by optical means. Wafers and substrates up to 6 mm thick may be processed. The system is equipped with a Hg-Xe vapor lamp. The MA6 has upgraded optics designed to output in the mid-UV (250nm) range. The lamp is controlled by a CIC 100 constant intensity controller capable of delivering user-selectable UV doses which remain stable during the life of the lamp. Optical sensors monitor the UV output dose and provide feedback to the controller. There are 2 selectable channels. Both channels operate the lamp near its "idle power" (475W) to maximize lamp life. Because the lamp operates in constant intensity mode, the actual power will vary over time as the lamp ages.
Technical Specifications
Specifications:
Substrate size 2" x 2" – 6" x 6"
Mask size up to 7" x 7" standard
Exposure Optics:
Wave length UV 400
L-Line and G-Line
Exposure source at 350 watt