Binary Gas Mass Flow Sensor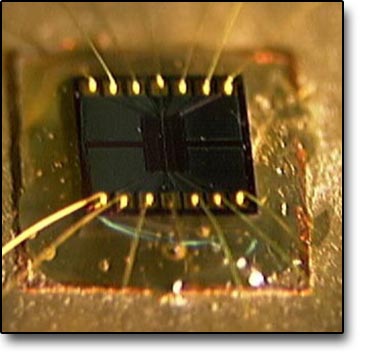 Demonstration of device to measure mass flow in natural gas engines. The piece is micromachined silicon, silicon nitride, and gold. Using a 10 micron heater and various temperature sensors, the unit can simultaneously monitor gas flow, direction, and relative concentration of two gases.
Equipment used:
Laurell Spinner to spin photoresist on silicon wafer.
Hotplate to soft-bake photoresist.
KS MA6 Mask Aligner to UV expose and transfer pattern to silicon wafer.
E-beam 1 Evaporator to deposit platinum heater and temperature sensors.
E-beam 1 Evaporator to deposit gold electrodes.
STS silicon etcher to back etch silicon.
Optical microscope to inspect fabricated chip.
K&S wire bonder to package fabricated mass flow sensors.