Renaissance Man
By Anna Lynn Spitzer
If Mark Bachman were an animal, he'd be a cat: a cool cat, with nine lives, of course. Not lives lived consecutively, mind you, but all crammed into one artistic, enthusiastic, passionate and sometimes messy endeavor.
Bachman, a consummate juggler of proficiencies, is teacher and technologist, innovator and inventor; he's also mentor, musician, actor, entrepreneur, Internet-of-Things evangelist and family man.
As he's the first to admit, that can leave him a little scattered. In fact, his LinkedIn profile states: "Please email. If I don't respond, try again. I often get swamped and I might miss yours."
"I often over-commit," he confesses. "My biggest problem is putting too much on my plate. Sometimes I'm juggling a million things, but it's hard for me to turn my back on people who need my help."
Bachman is about to begin a new – and probably less chaotic – chapter in his saga. On July 1, the UC Irvine electrical and biomedical engineering educator and researcher will wrap up 20 years in academia and segue into a new phase. An inveterate innovator who has collaborated on a string of startup companies, he will devote himself full time to entrepreneurship.
He will guide his newest business, technology firm InXus Interactive; help businesses implement the Internet of Things; and serve as a conduit for other local startups. "There's quite a lot of entrepreneurial activity in Orange County right now and I'm connected with that so I can help them out."
He knows firsthand that bringing a product to market requires time, money, expertise, connections and attention to detail. And, he says, although universities are successful at the basics, from research to prototyping, they're usually not well-equipped to guide projects all the way through the technology-transfer labyrinth.
"I'm at a point where I have to decide which way I want to go," he shrugs. "The market is coming back so strong, and we've been doing such great work at Calit2; I'd like to see some of it get out there."
Bachman is already an accomplished career evolutionist. He earned his doctorate in experimental subatomic physics at the University of Texas, Austin, working for several years as a physicist for the Brookhaven and Los Alamos National Laboratories, as well as TRIUMF, Canada's National Laboratory for Particle and Nuclear Physics.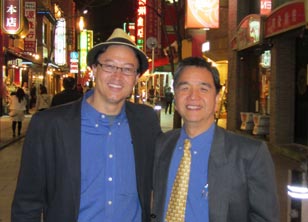 In the early 1990s, he found himself drawn to nanotechnology and microfabrication, ultimately making the leap into electrical engineering. Soon after arriving at UCI in 1994, Bachman worked hand-in-hand with fellow engineer G.P. Li to open the university's Integrated Nanosystems Research Facility (INRF), one of the first public cleanroom facilities in Southern California. In the process, the two engineers developed a fast friendship, one that has spanned 20 years, parallel research goals and numerous collaborations, including Calit2.
When Li was appointed director of the Irvine division in 2007, Bachman assumed the mantle of cleanroom operations, opening and overseeing BiON, the institute's bio/nanotechnology cleanroom. Later, he directed Calit2's eHealth Collaboratory, and assumed an unofficial, but very vocal, role as the institute's IoT evangelist.
He enthuses about the Internet of Things to anyone who will listen, plugging Calit2's expertise and accessibility. "As a colleague, Mark has been instrumental to the success of Calit2, from INRF and BiON to the establishment of the eHealth Collaboratory," says Li. "As a friend, he taught me the art of failure: the importance of learning from it and turning it into success. We always think of the glory of success but Mark taught me that failure is important too."
A popular instructor and intrepid researcher, he is an original thinker and inventor, whose 12 patents reflect both progressive thinking and down-to-earth practicality: a semi-implantable micro-hearing aid that mechanically drives the auditory system; microfluidic devices built from polymers; a super-thin, multichannel microphone, which uses micro cantilevers and light to detect sound; and a micro-pallet array, which allows scientists to isolate and study individual cancer cells.
UCI's Office of Technology Alliances named him its 2005 Innovation Award winner. "Mark is one of the most creative people I have worked with. He has an incredible ability to innovate and develop ideas," says Dr. Hamid Djalilian, an otolaryngologist with whom Bachman has collaborated on several inventions.
Bachman is a tireless crusader for innovation and commercialization, and an outspoken advocate for teaching students how to succeed at both. He founded the ResonanceLab@Calit2, where a dozen handpicked students learn the finer points of project management, decision-making, leadership skills and creative thinking. Four of his students have propelled his mentoring straight into their own startup companies.
"Dr. Bachman's mantra is to not be afraid to fail. His philosophy of exploring the unknown and attacking a problem from a fresh direction has undoubtedly helped me realize success as both researcher and now, as president of a medical device company," says former graduate student Nizan Friedman, co-founder and CEO of Flint Rehabilitation Devices. Another graduate student, Peyton Paulick, earned her doctorate in biomedical engineering last year. "Mark is a mentor who instills immense confidence in his students by empowering and encouraging them to take risks and explore their interests," she says. "[He's] a teacher, an advocate, a support system, a friend and an endless source of knowledge."
Fourth-year biology student Sara Foreman, whom Bachman mentors in Calit2's Multidisciplinary Design Program, also lauds his experience and insight. "He approaches [us] with the conviction that we have the creativity and capability of constructing a product worthy of real-life application, and he gives us room to experiment," she says. "If I ever limit myself, he'll not just give me a task to push those limits, but he'll help me realize that when I don't place boundaries on myself, I can truly accomplish a lot."
When Bachman's not in the lab or the lecture hall, he's often found behind a guitar or on a stage. Several years ago, he and UCI chemistry professor Craig Martens discovered that their musical styles meshed; they formed Second Law, performing at local coffee shops, bars and private events with a playlist ranging from Elvis to the Eagles, Johnny Cash to the Moody Blues.
"Mark's a consummate performer," Martens says. "Just as he has unlimited energy in his work life, he's the same on stage. When he teaches, he does more than lecture to students; he really likes to connect, and that's what he does when he sings, too."
"We have a lot of fun. It's a good way to let off steam and it's a great way to share with other people," says the affable Bachman, who also dabbles in musical theater. Last year, he starred in a local theater adaptation of "Jesus Christ Superstar," his "all-time favorite" musical. "When I was a kid I memorized the entire thing," he marvels. "So for me to play the lead role was a dream come true."
Going full throttle on his artistic and professional lives, however, does not diminish his focus on what Bachman calls his highest priority – his family: wife Kari, and kids Dale, 24; Harrison, 18; and Josie, 16. He beams as he describes traveling, scouting (he was a scoutmaster for seven years), theater experiences and other family fun. A few years ago, Kari and Harrison took a year-long educational trip that spanned the globe; Bachman and Josie met them in the Florida Keys and in Japan. "That just illustrates the kind of family we have; we're real supportive of those kinds of things," he states, adding, "When we always play things safe, we don't do anything. So my feeling is, 'go for it.'"
As he begins to write his next chapter, he is determined to do just that. He recalls attending a friend's funeral many years back, where the eulogy focused on one career accomplishment after another. "That didn't resonate with me," he says. "I'd much rather [when I die] that people say, 'He created things. He inspired people. And he made a positive impact on the world.'"