SEM Hitachi S4700 / EDAX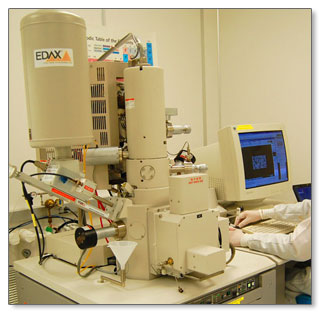 View Photo Gallery


Download Standard Operating Procedures

The Hitachi S-4700 Scanning Electron Microscope (SEM) is an extremely powerful method for surface analysis, allowing high depth-of-field and high magnification imaging. Topographical features, morphology, compositional differences, and the presence and location of defects can be examined in a wide range of sample types.

This tool is a cold field emission SEM with very high resolution, integrated backscatter detector, EDAX X-Ray attachment, 5 motor stage, sample exchange chamber (load-lock) for quick pump down and a infra-red chamber scope for stage viewing at 1x. Although the machine is easy to operate, only trained approved users may use the SEM and only properly mounted and baked samples with low out-gassing characteristics may be used. Maintaining good vacuum is mandatory for proper operation of this tool.